In 2020, Porter's Center for Global Leadership (PCGL) launched ChangeMaker's Institute to seed a new frontier in changemaking for women and girls around the world. Our middle and high school programs inspire young women to take up space, find their inner wisdom, and discover new convictions and strategies for their vision of possibility for the world.
Now, we are expanding our community to include adult women changemakers who are daring to make possible a better world.
Together, PCGL and Miss Porter's School Ancient Cat Lindroth '04 have developed the ChangeMaker's Institute to inspire women and girls from around the world to achieve their personal purpose and determine their viable pathways forward as changemakers.
We are cultivating one of the most powerful, heart-centered female networks on the planet.
Please join us.
ChangeMaker's Intergenerational Community of Practice
Ground in our shared wisdom.
Collaborate on shared challenges.
Establish shared vision, strategies and sisterhood.
January 23 – May 28, 2024
10 Sessions
Bi-weekly meetings on Zoom
Participants will determine the timing for meetings based on their schedules
Cost: $500*
*Payment plan available, all fees support PCGL programming.
Together, let's make possible the world of our dreams.
"Where do we go from here?" echoes as a question in the hearts and minds of changemakers today. Our education and economic systems feel increasingly unfair and exploitative. People and their governments are exhausted and divided. Climate issues are peaking, and this is all increasing mental health issues and despondency at unprecedented scales.  
Still, bright lights inspire awe and new possibilities. Innovation in technologies and social finance are helping us to push back on climate change. Systems change efforts are beginning to coalesce to attack the root causes of entrenched racial and economic disparities.  
As changemakers, every day, we bridge these realities between hope and despondency. We seldom have an opportunity to truly pause, reflect and make meaning of our work and consider the bigger picture of our current course of action. Even more rarely do we have the opportunity to do this with our trusted peers working on shared purpose and problem sets.  
In this virtual learning community and discussion series for Porter's Ancients and friends, participants will connect with a global network of women changemakers to:
Pause & Reflect

to make meaning of your experiences –  and our collective experiences to date 

Identify & Connect

opportunities to collaborate, overcome challenges and uplevel impact

Explore & Build

new perspectives on frontier changemaking strategies; anchor in the world we dream of, the world we are living in, and the space from here to thereexperiences
We are growing our knowledge by sharing our learning, stories, vision and insights from our respective fields and lived experiences.
Our intergenerational approach educates, inspires and threads together a foundation for a diverse, female-led collective impact on some of our world's most pressing challenges.
We are truly building an intergenerational community, shedding norms founded in colonialism and patriarchy.
Virtual ChangeMaker's Institute Workshop for Women
Monday, November 6, 2023 at 7:30 p.m. – 9:30 p.m. ET
On Zoom
Cost: Free
Registration is now closed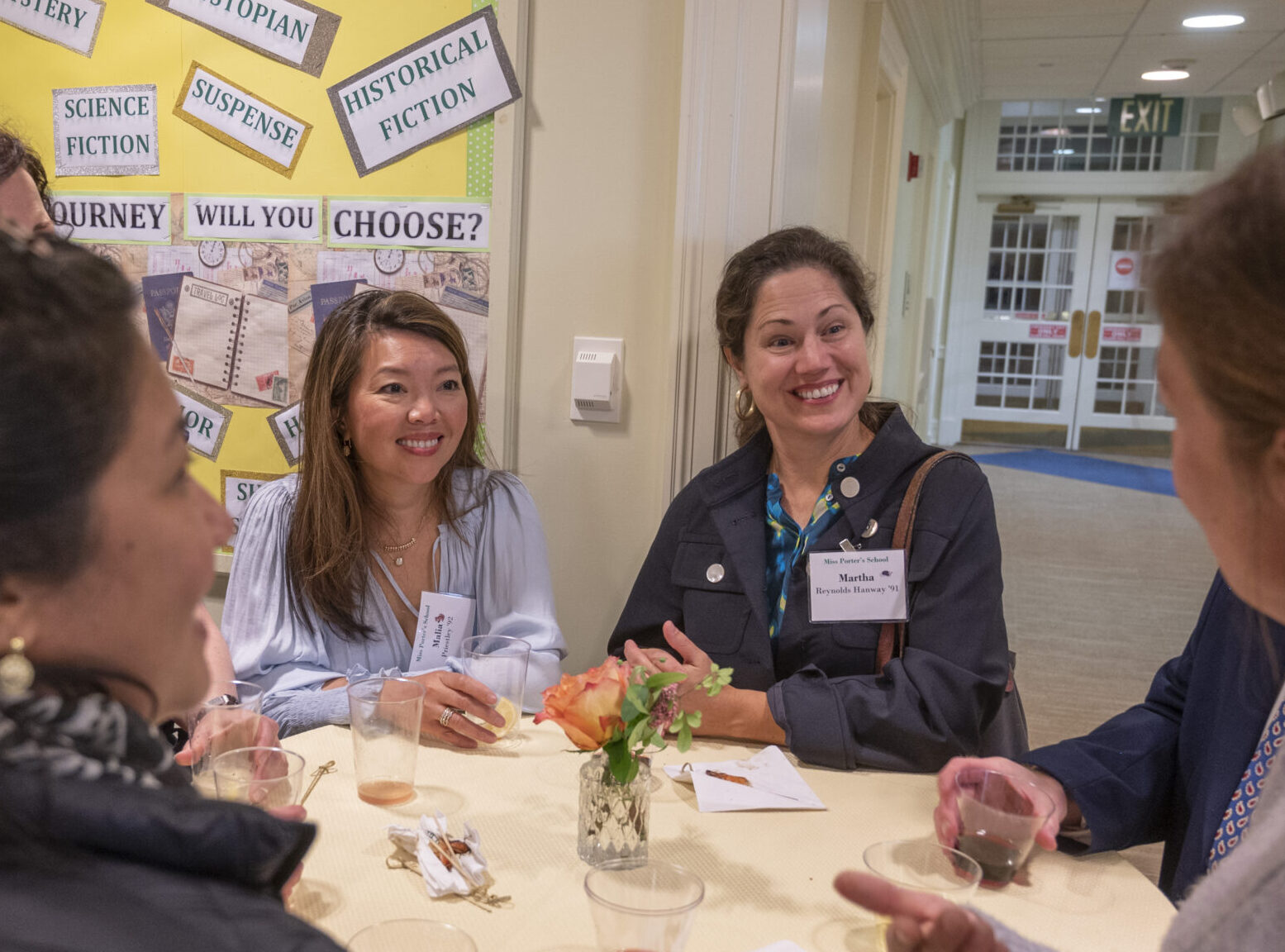 Join us for an interactive workshop for graduates of Miss Porter's School, Westover and Ethel Walker who are passionate about change making. Through personal stories, we'll explore the world we envision and the steps needed to get there, fostering connections and shared meaning. By embracing radical personal responsibility, we aim to leverage our collective networks to drive meaningful change. 
In this two hour virtual workshop, we aim to engage a group of diverse graduates of Miss Porter's School, Westover School and Ethel Walker School who are interested in and passionate about changemaking.
In an interactive experience, we will hear from each other's personal stories about respective changemaking efforts, the world we dream of, and the space from here to there. 
Overall, this experience will facilitate an opportunity for alumnae to deeply connect with each other and make meaning of their shared and diverse experiences in their lives, philanthropy, and changemaking work.
By making meaning of our collective experiences, and naming our shared dreams and current challenges – we can begin to ground the possibility of collective impact together on issues that matter most.
Designer & Lead Facilitator, ChangeMaker's Institute, Porter's Center for Global Leadership
Founder, Eso Terra
Founder, Dual School, SummerCollab & Social Contract
Throughout her career, Catherine has helped foundation, non-profit, and government leaders strategically foster innovation, collaboration, and collective impact. Combining her expertise in entrepreneurship, education, youth development, organizational management, facilitation, design thinking, systems thinking, and program design, Catherine deploys a unique set of skills in allyship with daring, visionary minds looking to make an inspiring impact in the world. 
Fill out the form below to sign up for the free Virtual ChangeMaker's Institute Workshop for Women.